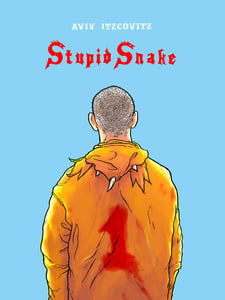 $

18.00
Stupid Snake Book One
By Aviv Itzcovitz
Published by
The Cavalry Press
192 pages b&w
7.5 " x 10" SC
$18.00
ISBN 978-0-9831814-0-8
Shipping March 2011
Strange, lonely characters keep bumping into one another under various of bizarre circumstances: A troll under a bridge; a peculiar, desperate man; a mutated pterodactyl; the one-eyed hunter that killed his lover; an old fisherman and his lovely daughter; the drunken bum who falls for her; one
mysterious dwarf and his riding-duck. Unbeknownst to any of these lost souls they're all connected by the same common denominator – the Stupid Snake: an odd, reclusive creature in possession of godlike powers... but also ordinary stupidity.
Stupid Snake Book One is the collected edition of Aviv Izcovitz's eventual three-part grapic novel, currently being serialized online at the cartoonist's website http://www.iaviv.com/. Stupid Snake has been featured on Comics Reporter, and Izcovitz's work has been featured on Act-I-Vate Comix and on the Covered and Repaneled blogs. Aviv Itzcoviz works as an artist and illustrator in Israel, Binyamina.